The below applies to Consultant and Company Memberships. To see how it works for Consultant profiles that are paid by Company accounts go here.
To upgrade, log in to your account and just select your desired Membership at the Membership page and follow the process, which is also described below.
The Membership page can be found at (i) Menu or at (ii) Resources at the bottom of each page.
Upgrade & Trial Period
When you are entitled to a trial period:
Just select any Membership and you will be upgraded straight away activating your trial.
There is no need to provide any credit card details when starting your trial.
When your trial period has ended you will be automatically downgraded to Basic.
Upgrade after Trial Period
When you are NOT entitled anymore to a trial period:
Make sure you have provided your credit card details, see Activate Payment method below.
Just select your desired Membership at the Membership page.
Confirm "Do you really want to change your plan?" and your new Membership will be activated, provided your payment has been accepted.
Upgrade from Plus to Premium
If you already are on a Plus Membership and you want to upgrade to Premium your upgrade to Premium will be effectuated and charged at the end of your current Membership period.
If you want activate your Premium Membership directly, you first need to cancel your Plus Membership and then select a Premium Membership. Please note, that no refund or settlement will be provided in relation to the remaining period of your Plus Membership if you cancel it.
Activate Payment Method
Go to your Billing Information page and enable your Payment Method by entering your Credit Card details at either PayPal or Stripe.
Click the Save button once and WAIT for a few seconds.
When the PayPal or Stripe box turned orange select your method by clicking the white dot in the orange box.
Refresh the page and now Payment Method should either state PayPal or Stripe and then your Payment Method is activated (see also picture below).
Payment method activated: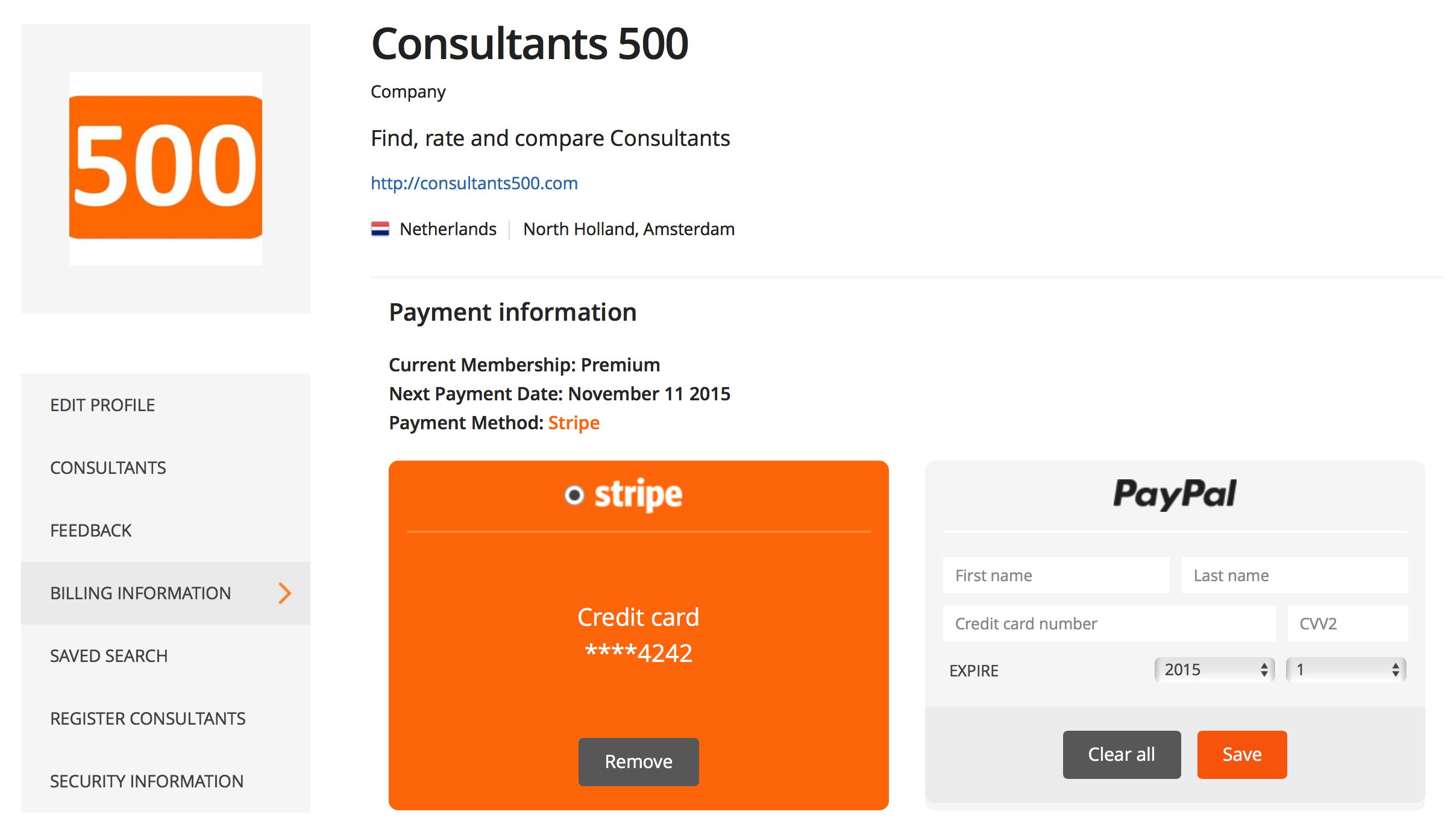 Links to related information